OUR CASE HISTORIES
We have successfully handled jobs of all sizes throughout the country:
U. S. Army Ground Vehicle Propulsion and Mobility Unit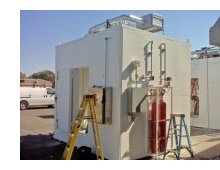 Comprehensive understanding of Corps of Engineers specifications enabled selection of subcontractor with resources and capabilities to meet targets for management of temperature, high pressure levels, and humidity. Units are the first of their kind, incorporating external systems for environmental control and fire suppression. Structures highlight safety and functionality, with blowout panels and coatings designed to resist multiple chemistries employed in a variety of battery and capacitor technologies.
SCOPE: Two mobile, self-contained units for the safe storage of next-generation battery technologies.
---
U. S. Army Corps of Engineers
Joint venture between A. R. Management and Garrison LLC constructed the Weapons System Support & Training Facility at the Detroit Arsenal. Experience in poured concrete construction, general labor, carpentry, and level-5 finishing enabled the incorporation of features for safe operation and containment of a wide range of ordnance. Successful completion allowed economic and effective consolidation of multiple operations in one location, under the Department of Defense Base Realignment and Closure (BRAC) program.
SCOPE: 31,400-square-foot facility was designed and built to exacting specifications, achieving LEED certification, with an impeccable safety record.
---
Wayne County Airport Authority
Specialized construction project to close off unused concourses allowed Airport Authority to extend the life of lightly occupied L. C. Smith Terminal and to reduce operating costs. Expertise in drywall installation and use of flame retardant materials were critical to establishing a firewall in areas where utilities were discontinued. Use of a specialized steel stud wall provided a UL fire rating of three hours. Quality of finished work earned compliments from Airport Fire Inspector.
SCOPE: Extended period of construction activities in high-security environment with direct access to airport ramps and runways.
---
PSCNow
Industrial cleaning in power stations, chemical plants, and paper mills, with crews at work in as many as 12 states from Maine to Iowa. Based on client satisfaction with services, the project grew from initial involvement of one crew on a five-day assignment.
SCOPE: Renewed relationship with long-time client, leading to business worth more than $600,000 in 2008.
---
Detroit Metropolitan Airport
Provided crews for construction of safety and temporary worksite facilities; performed site maintenance and truck operations as part of waste and debris removal. Our personnel facilitated relationships with multiple unions onsite.
SCOPE: Nearly $1.3 million in labor and construction services within 16 months.
---
Severstal Steel
Industrial cleanup of furnaces and boilers at steel mill, included high-pressure blasting and vacuum trucks for material removal. Provided certified cleaning crews and truck operators, becoming primary subcontractor for heavy-duty cleaning personnel.
SCOPE: Responsibilities extended to multiple plants, averaging $750,000 per year between 2004 and 2008.
---
Village of Deerfield
Removal of sludge from municipal wastewater treatment plant, both on a schedule of preventive maintenance and as emergency operations. Provided equipment, supervisory personnel, and operators trained to work in confined spaces.
SCOPE: Operations involved specialized crew and equipment at negotiated day rate.
---
Toledo Automotive Plant
Cleaning and subsequent decommissioning of automotive assembly plant: provided labor, vehicles, and equipment for both phases of this operation, coordinating schedule with the prime contractor to remove specified waste and materials prior to closing.
SCOPE: Continuing operations over a 12-month period, totaling $900,000.
---
City of Detroit Recreation Department
Supported Empowerment Zone program with instructors to work with students five days a week after school on extracurricular activities, including chess, art, dance, drama, music, and martial arts.
SCOPE: Starting with two instructors, involvement grew to more than 25 instructors in approximately 20 schools within a four-month period. Total: $80,000.